Facebook Boosting As A Promotional Tool In Hong Kong, Or Otherwise
We tried to improve our Facebook post reach by promoting, or boosting, a post. Veritasium is a YouTube science video guy. In trying to learn how Facebook advertising works, he took a typically scientific approach: he created a helpful YouTube video, embedded below. I recommend it not only as a primer on Facebook's business model, but as a warning to those considering social media paid-advertising as a way to grow your reach.
We didn't heed the warnings.
Turtle Media recently partnered with friends in Hong Kong to create Foodcourt.hk, a restaurant review aggregator for HK. It also has a dining news magazine that my journo friends write, and we push our articles out each day via FB and Twitter.
But – and Facebook admits as much – the organic reach of posts from our page is gradually decreasing in favour of friend posts (which is after all, what users are mostly there to see), as well as paid advertising.
So when we recently had a deal to offer our readers – 10% off at a local Spanish restaurant – we decided to experiment with 'boosting' to increase the post's reach. Our hopes were that it would get more people eyeballs on our site – some taking up the offer, some liking our FB page and some visiting again in future.
Here's what the options screen looked like: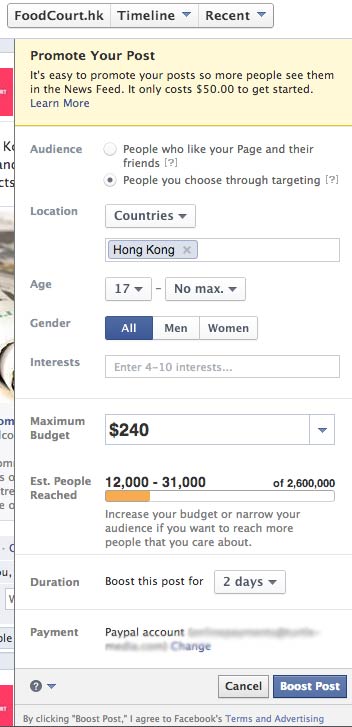 That's in HKD by the way.
The Results
Within 20 minutes, we had a dozen likes on the post. By the following morning (today) we had 80 likes, before shutting it off. We had only spent around 10USD. We had reached 3,200 people via paid, and 376 organically (incidentally, higher than usual).
There was something strange about all of this. Apart from two of our friends, the vast majority of 'likes' were Indonesian women living in Hong Kong. Not one appeared to speak English. None of them clicked, commented or shared the article, nor followed our page.
Our Google Analytics shows only 16 clicks from Facebook for that day. Compare that with last week, when we received 47 referrals from another (unboosted) post that had similar organic reach.
So of the 3,200 paid impressions, we got less than 0.5% of those clicking the article (since many clicks probably came from our organic reach) and no page likes. Worst of all, our post looks gamed since we have 80 likes from people with mostly unpronounceable names (e.g. YayaNt Lophe Widy Saexmodharmodhar'e.)
The Takeaway from a Facebook Boosting
Click farms are an unfortunate reality, and the strategy of liking a variety of things to avoid Facebook identifying them as click-farmers is rational. But I still fail to understand:
– How a click-farmer could make any reasonable money liking things? Let's say you could get paid a generous 1HKD for a click. To make 1,000 dollars in a month, you'd have to be liking more than one thing an hour, all day every day.
– Why anyone advertising on Facebook would see results as positive? And more than that, continue to use the boost feature after first dipping their toes in it?
We won't be using Facebook paid promotion again unless it is highly targetted, or unless Facebook can address this issue somehow. Email marketing is way better anyway.